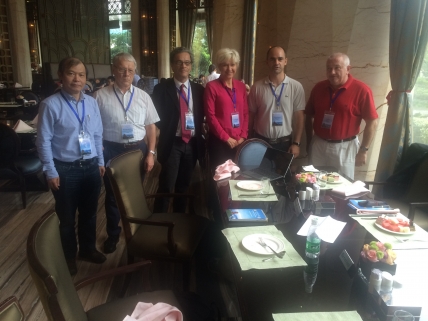 The 35th International Conference on Thermoelectrics (ICT2016) took place in Wuhan / China from May 29 to June 2, 2016. Professor Tang and his crew from Wuhan University of Technology arranged a perfect event in a beautiful venue. With 626 attendees, the conference was a great success
Six board members of the European Thermoelectric Society attended the ICT2016 (photo). Europe was generally well represented and it was a pleasure that Professors Hubert and Stanislas Scherrer (both Ecole des Mines, Nancy / France) were jointly presented with the 2016 Outstanding Achievement in Thermoelectrics Award.
Dr. Jan König and Prof. Dr. Yuri Grin were elected to the Board of Directors of the International Thermoelectric Society (ITS). Prof. Dr. Franck Gascoin was entrusted with the organization of the ECT/ICT2018 that will take place in Caen (Normandy) / France July 1-5, 2018.